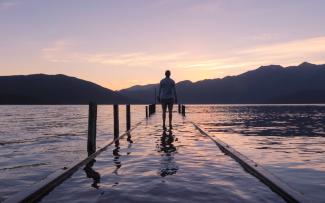 Creating an Investment Philosophy
At Glownia Financial Group, we think a clear investment philosophy is essential to pursuing long-term financial success. Investment strategy is also important, but it should be driven by the overall investment philosophy. Strategies can evolve as life changes, but philosophies are the core beliefs, principles, and practices that guide your decision-making. In times of market uncertainty, a philosophy may enable you to control your emotions, shut out the noise, and bring your focus back to your long-term goals.
Too often, we see people want to focus on the short-term outcomes of their decisions when it has little impact on their long-term strategy. For example, a sudden drop in the market in reaction to an adverse event can be concerning, but in time it may be nothing more than a minor blip. An investment philosophy can remind you of that. It can also remind you that short-term results are random and fleeting, meaning you have no control over them.
Instead, an investment philosophy can keep you focused on the process. If mistakes are made, you'll have a system for uncovering and learning from them. No panic or second-guessing, just a clear assessment of where you are and where you want to be, and whether your current strategy has the potential to get you there. If the strategy doesn't work, you adjust.
Keep It Simple
An investment philosophy doesn't need to be elaborate. You can keep it short and simple while still expressing your core belief. Take Warren Buffett's investment philosophy for example, which is just one sentence: 
"Buy wonderful businesses at a fair price with the intention of holding them forever."
While some people may not grasp the meaning of Buffett's investment philosophy, all that matters is that he does.
It requires understanding the markets and familiarity with investment principles and practices to create a philosophy, but it also requires a deep understanding of your own values, beliefs about money, and risk tolerance over a long period of time.
Bottom Line
At Glownia Financial Group, we want you to understand our investment philosophy, while offering education and support to help you pursue your goals. Be wary of financial professionals that don't bother to ask what your values are, or worse, are unable to describe their own investment philosophy succinctly and with conviction. As the old saying goes, "if you don't know where you're going, any road will take you there."
If you'd like to see if our firm's values align with yours, or if you need help defining your financial goals, give us a call!